Bassett, Brosius, Foy & Associates is an independent goal-based financial planning practice, affiliated with Raymond James Financial Services, based in Wilmington, DE since 1985. Collectively, our associates have over 100 years' experience in the financial services industry providing financial planning to clients in over 30 states within the U.S. Our team was chosen as Forbes best-in-state-team for Delaware in 2023 as well as Brad Foy being named Forbes Best in State Advisor 2023 for Delaware. Our financial advisors are all CERTIFIED FINANCIAL PLANNER™ professionals, which is considered the gold-standard within financial planning. As CFPs, professional advisors are held to a fiduciary standard, which means we are required to put your interest first before our own. The process starts by collecting all the financial information we can gather about you including your assets, liabilities, income, and goals. Our team then works to put together a financial plan for you that achieves these goals and then we assist you in putting together a diversified portfolio that only takes on as much RISK as is needed to get the RATE of RETURN required by your goals. We also believe in charging clients a reasonable fee, but by no means do we charge the maximum allowed. If you are not working with a best in-state team, a practitioner, or if you are working with an advisor who is overcharging you, then we suggest setting up a free complimentary second opinion service where we will review your current financial plan and portfolio free of charge.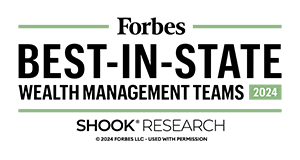 Certified Financial Planner Board of Standards Inc. owns the certification marks CFP®, CERTIFIED FINANCIAL PLANNER™, CFP® (with plaque design) and CFP® (with flame design) in the U.S., which it awards to individuals who successfully complete CFP Board's initial and ongoing certification requirements.
2023 Forbes America's Top Wealth Management Teams Best-in-State, developed by Shook Research, is based on the period from 4/1/2021 to 3/31/2022 and was released on 1/12/2023. Approximately 8,000 team nominations were received and 2,860 advisor teams won. Neither Raymond James nor any of its advisors pay a fee in exchange for this award. More: https://www.raymondjames.com/award-disclosures#2023-forbes-teams-best-in-state. Please see https://www.forbes.com/lists/wealth-management-teams-best-in-state for more info.
Best-In-State Wealth Advisors (2023)
The Forbes ranking of Best-In-State Wealth Advisors, developed by SHOOK Research, is based on an algorithm of qualitative criteria, mostly gained through telephone and in-person due diligence interviews, and quantitative data. Those advisors that are considered have a minimum of seven years of experience, and the algorithm weights factors like revenue trends, assets under management, compliance records, industry experience and those that encompass best practices in their practices and approach to working with clients. Portfolio performance is not a criteria due to varying client objectives and lack of audited data. Out of approximately 34,925 nominations, more than 6,550 advisors received the award. This ranking is not indicative of an advisor's future performance, is not an endorsement, and may not be representative of individual clients' experience. Neither Raymond James nor any of its Financial Advisors or RIA firms pay a fee in exchange for this award/rating. Raymond James is not affiliated with Forbes or Shook Research, LLC. Please visit https://www.forbes.com/best-in-state-wealth-advisors for more info.
Financial Planning
Whether planning to build a home by the lake or help your daughter launch a business, you need a well-conceived plan in order to succeed. Pursuing financial independence is no different. Whether you're looking to grow your money over time, generate income in retirement or preserve wealth for future generations, confidence in your financial plan comes with knowing your assets are invested well.
Retirement Planning
We understand that there should be no compromise when it comes to your financial future. That's why we work diligently to serve as the ultimate steward for your wealth, simplifying life's complexities with a full spectrum of strategies for a tailored plan that we believe is the only one you'll ever need.
---
Happiness is not in the mere possession of money; it lies in the joy of achievement, in the thrill of creative effort.